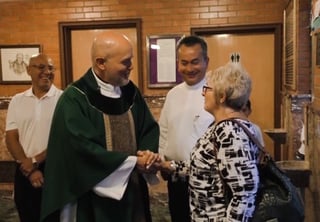 Long before there was a multitude of businesses that emphasized "customer service" or "customer care," welcoming strangers was central to our Catholic faith. Today a growing number of parishes are rediscovering hospitality as an essential Christian practice.

Why is it is so important that we extend a warm welcome to all?
Because Jesus set the example: When Jesus went to Bethsaida, the people sought him out. "When the crowds found out about it, they followed him, and he welcomed them, and spoke to them of the kingdom of God and healed those who needed to be cured [Luke 9:11 NSRV.]"
Because the Church teaches us so: "The Church must be a place of mercy freely given, where everyone can feel welcomed, loved, forgiven and encouraged to live the good life of the Gospel [Evangelii Gaudium, 114,]"
Because it breaks down barriers: When we welcome well, we offer friendship that transcends the barriers of class, ethnicity, age, and economic status. Hospitality can turn strangers into friends and eventually family.
Because it builds up our parishes: nearly 4 out of 5 visitors to parishes say that the "friendliness" of the parishioners determined whether they came back or joined.
Because it makes disciples: Hospitality can bring the Good News to life and encourage growth in faith. If newcomers' first experiences are warm and friendly, then they—and even current parishioners—develop a sense of belonging that engages them in the Church's mission. And they are more likely to become disciples ready to bring God's love to others.
Keep the issue of reaching out and welcoming central to your overall message: Remind engaged parishioners to be friendly at all times. Remember that hospitality is a responsibility for all of us.
For more insights into providing a warm welcome in the parish, read Touchpoints of Hospitality in Parish Life.